About Us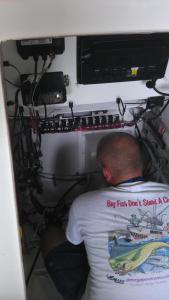 Competition Boats was born to fill the need for a smooth riding center console that was built with safety and fishing in mind at the right price. Owner "Manny" has been in the marine industry all his life and noticed that fisherman needed a well constructed fishing boat. The 25′ was the first boat offered by Manny. It's classic look combined with the latest technologies have proved to be an icon in the single engine sport fishing community. Manny wanted to give his owners prestige boat at a great price and that is exactly what he has done.
The rest of the Competiton crew includes the best riggers and boat builders in South Florida. Our team is our family here and all our owners become part of our family. We take great pride in providing each customer with a high quality boat and every boat is built to your order specs.
Today Manny produces a 22′, 25′ and 31′.  There is a boat for everyone here. The options are completely up to the customer and you will be amazed at the construction quality and price. With no dealers, you always build factory direct and Manny will be by your side along the entire process.  Welcome to the Competition Boats family.